most unique inventory for san antonio musicians
Other Fine
Acoustic Guitars

Whether new, in on trade, or as consignments, we feel priviledged at Guitar Tex to have the opportunity to bring you some of the finest acoustic guitars available on the planet.
Visit our Reverb store for updated inventory.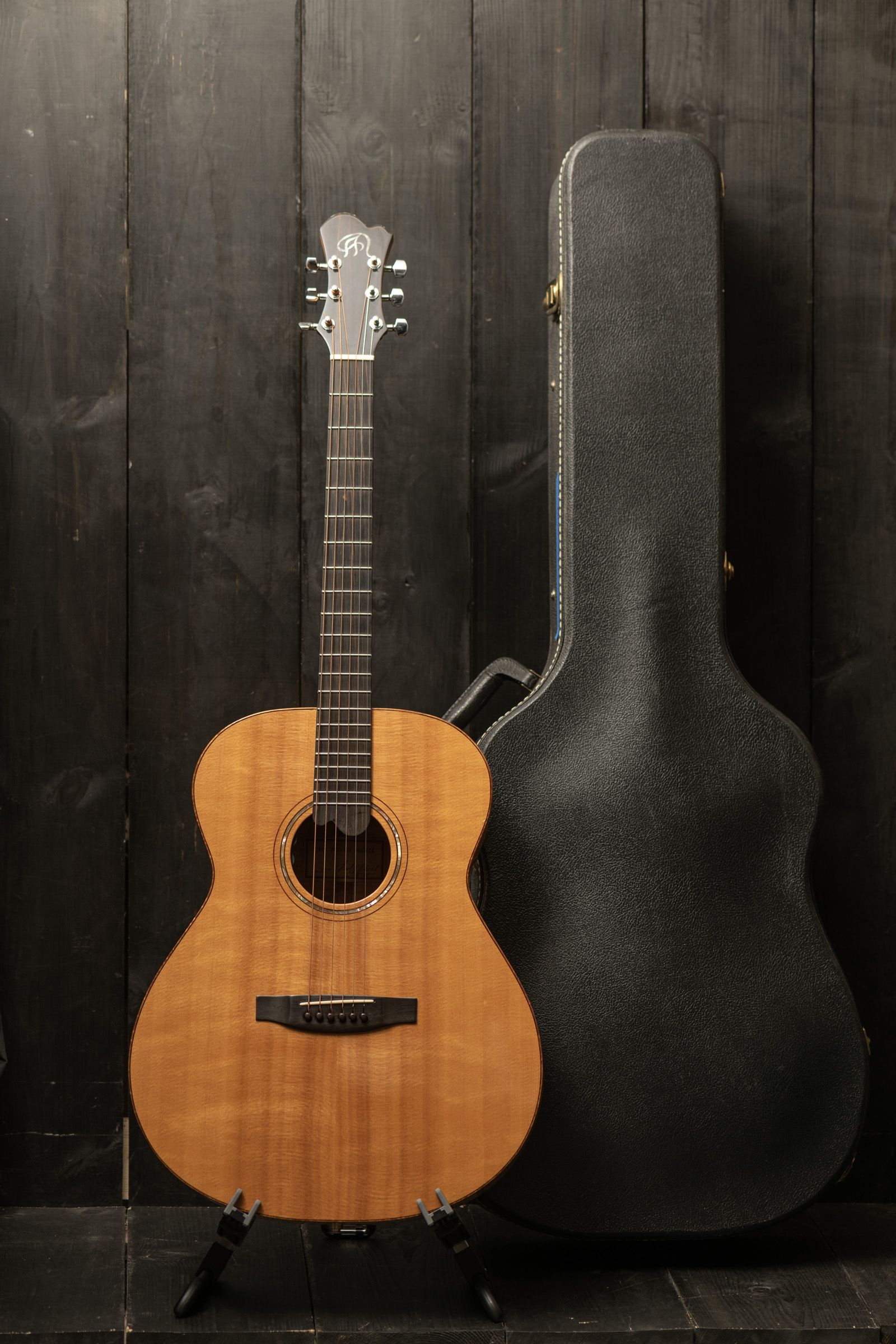 This remarkable steel string acoustic guitar was received in the store on consignment. It was made in 1984 by luthier Paul Daniel McGill, an American builder who is now most well-known for his classical guitars.
McGill was in Wisconsin when he made this guitar. About 8 years into his career as a maker, it demonstrates that he was already well versed in his chops as a builder. This instrument is No. 55 and features gorgeous European flamed maple back and sides, Sitka spruce for the top, Koa bindings, and a Koa neck. There are perhaps four instruments with this body shape, and this is the last one of this type that was made by McGill. Not long after the completion of this guitar McGill made his way to Nashville and shifted his concentration to nylon-stringed classical guitars.  
Now approaching 40 years old, the instrument is in excellent shape. While there are some somewhat noticeable dings on the soundboard, the guitar is without significant wear. Per McGill, there was work done to the neck in the vicinity of 20 years ago that involved him replacing the fretboard. The abalone rosette along with the flourished treatment of the bottom end of the fretboard and the elegant headstock shape give this guitar a striking and uniquely refined visual presence that is matched by its sound.  
Measurement-wise, our eyes give us the following figures:
Scale: 25 1/2 Inches
Nut Width: 1 3/4 Inches
Saddle Spacing: 2 1/8 Inches
Width at Lower Bout: 16 Inches
Width at Upper Bout: 11 3/4 Inches
Waist: 19 Inches
Length of Body: 19 3/4 Inches
Length from Headstock to Bottom: 41 Inches
Body Depth: 4 Inches at neck heel; 4 7/16 Inches at bottom.
The guitar is equipped with a Schatten HFN Active pickup system. Neck has a truss rod which is accessed from the soundhole and behind the soundboard brace.
The guitar includes a hard-shell case.
Price: $4,100
This Stonebridge was made in the Czech Republic by Furch and is identical to The Furch Yellow Master's Choice model Gc CR SPA. Made of Western red cedar and Indian rosewood, it is very open and warm sounding. Very easy to play.
$1,800.00 w/case
We learned that David Webber is now "semi-retired". He worked with one assistant and produced a remarkable average of 100 guitars a year. The 6 fan braces are beautifully carved, but I can't identify the pattern. I'm guessing it's what Mr. Webber developed himself. It's a lovely guitar made of solid cedar and Indian rosewood. It has a bold and strong voice with powerful fundamentals. 650 mm scale, 52 mm nut. Very nice condition with only some fingernail marks near the soundhole. Includes premium hard case. Price: $1,995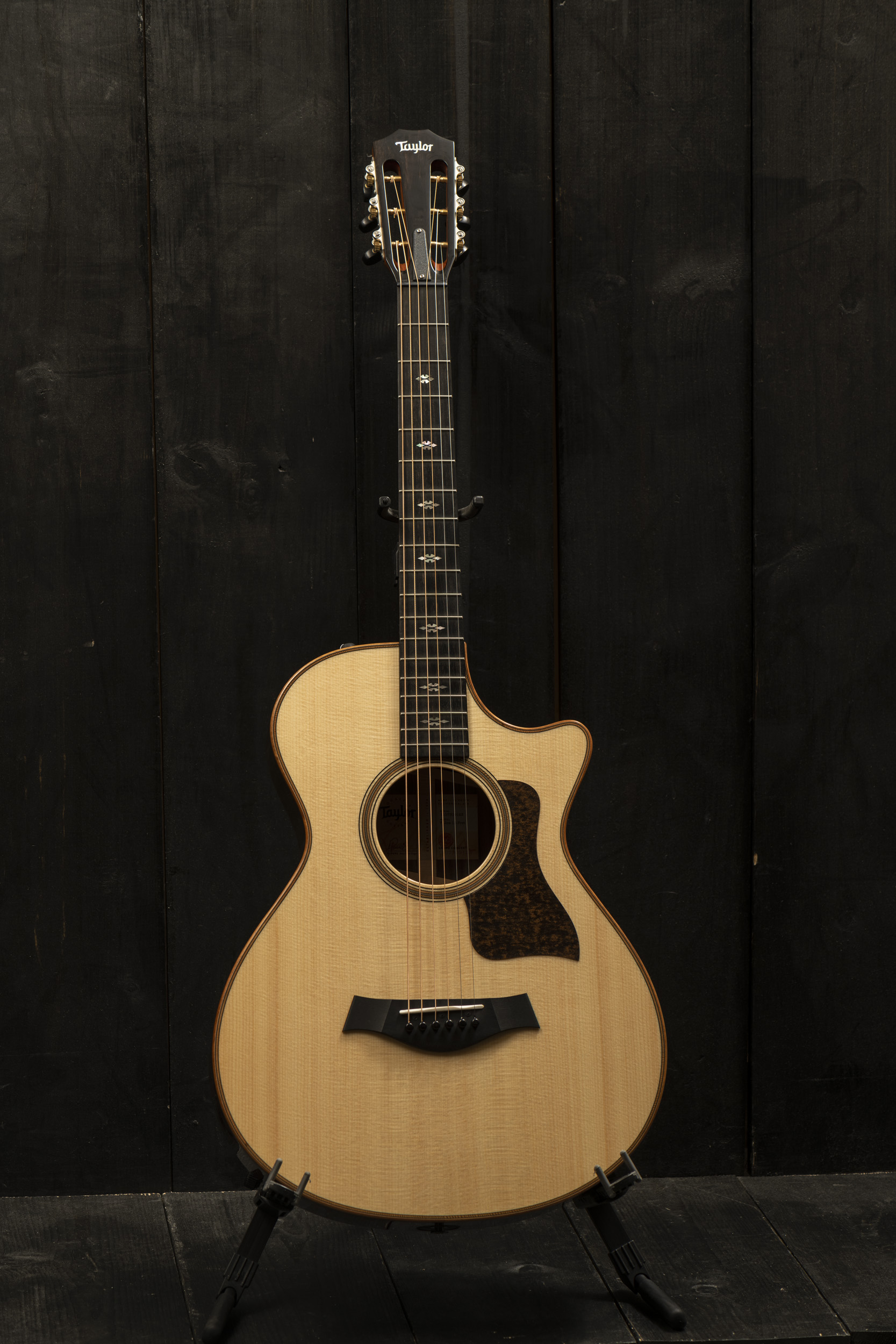 Incredible sounding Taylor 712CE in showroom condition. Lutz spruce and Indian rosewood. Among the few 12fret offerings from Taylor and this Series has been sadly discontinued. Playing perfectly with no issues of any kind. Includes Taylor brown hard case.
When this one came in we all marveled at the condition. It looked like it hadn't been played, and in fact it wasn't played much at all. No scratches, buckle rash, fret wear, etc. Their was only a common and easily remedied center seam crack.  However, once we looked inside nearly every X brace was ready to come loose. Our very talented luthier, Logan Mask, cleaned the glue residue, and reglued them so that all is secure and tight. The action is very good and there's plenty of saddle and truss adjustment. No serial or FON visible, but we can narrow the dating to about 1952, which coincides with the original owner's purchase date. We will include a non original case with this purchase. Brazilian rosewood bridge and fingerboard, solid spruce and mahogany. Looks to be all original except the bridge pins. Price: $4,750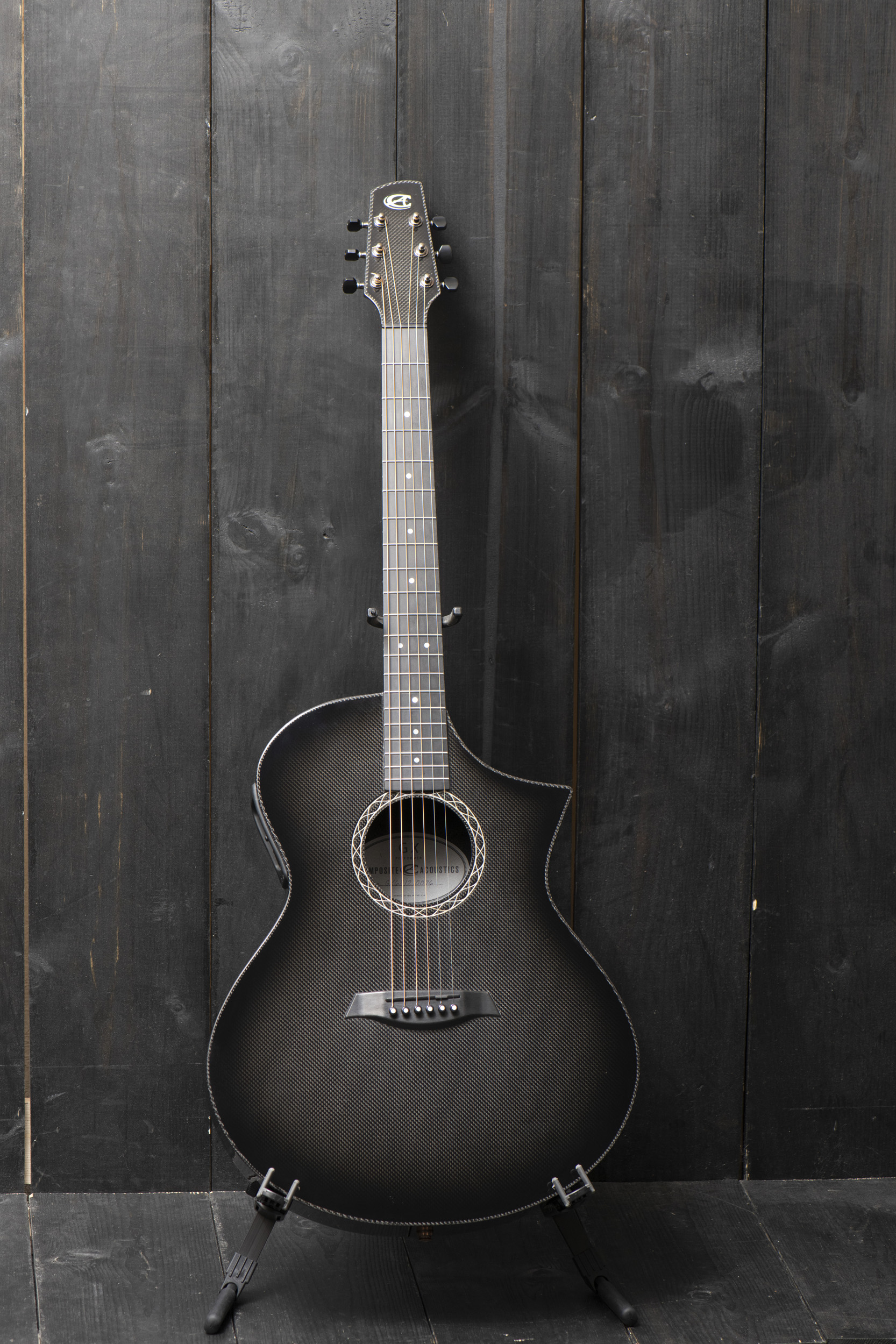 Lovingly played and super clean with no nicks, dings, scuffs, etc. This is one of the original Lafayette, Louisiana made CAs, NOT made by Peavey. Great action, killer tone, original case incuded. LR Baggs I-Mix onboard pickup.
1928 Style 2 National Tricone (SOLD)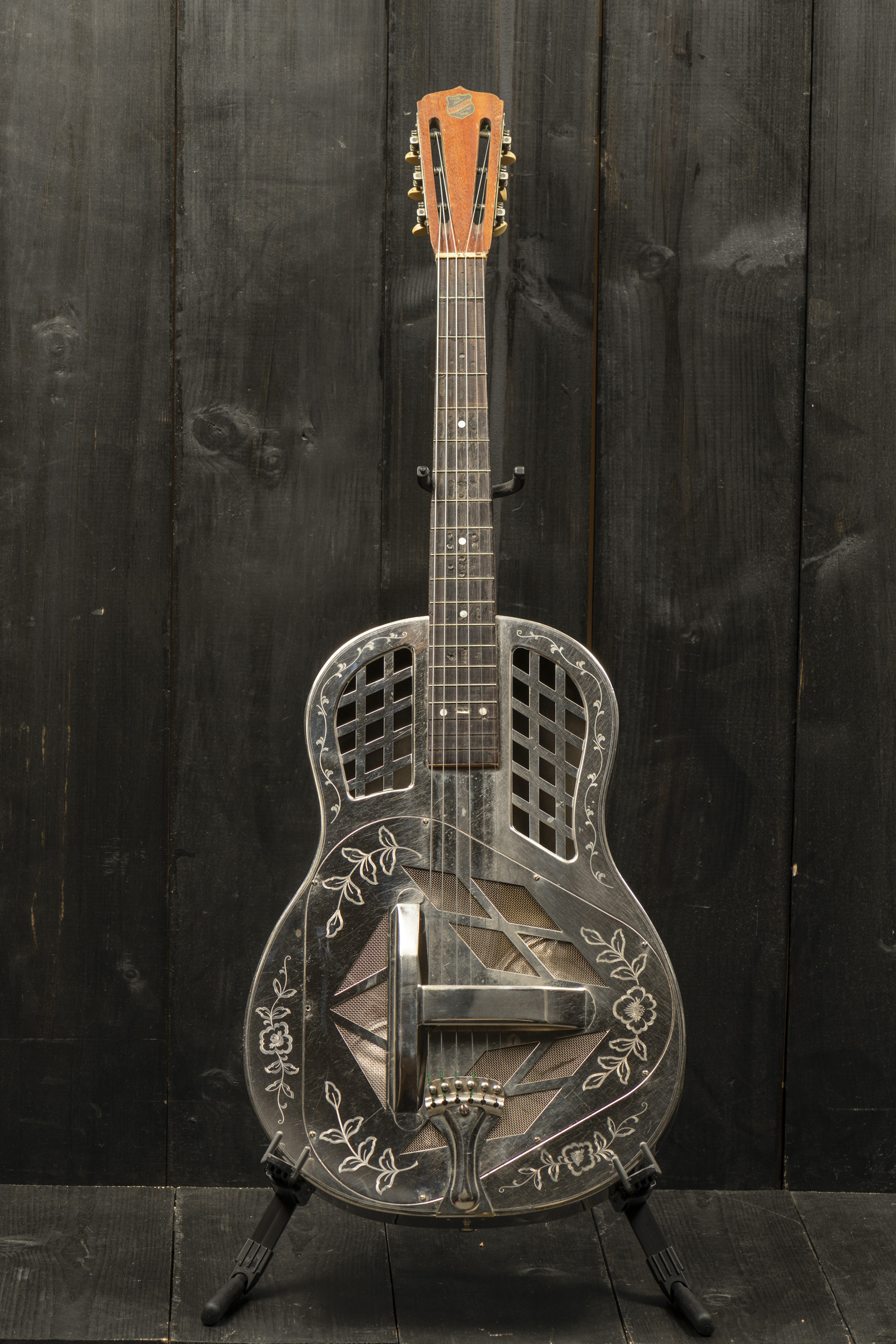 Among the more curious things to come through the store, this 1928 Style 2 National Tricone guitar is both a unique slice of history and something of a mystery. Inscribed on the back with the names Jake Barbee and Dorothy Cobb, our understanding is that this pair performed together; however, research has revealed precious little about either individual. The instrument itself is not in ideal shape (pictures show fretboard damage and some removed frets), but it is nonetheless a compelling guitar with both a story to revealed and likely some songs left to play.
Recording King RO-342 (Sold!)
The Recording King RO-342. Sound and playability being the most important part of any guitar, the RO-342 brings that in spades, delivering an 000-style guitar of exceptional value. The guitar features a solid AAA Adirondack Spruce top, solid East Indian Rosewood back and sides, Abalone purfling and rosette, and bound fretboard and headstock. Bone nut with 1 ¾" width and 24.9" scale length. Priced at $1,099. Case or bag is extra.
The D-35 is part of Guild's Bluegrass Series of guitars. Made in Westerly, Rhode Island of solid sitka spruce and mahogany, it was designed to compete with a D-18. This one sure does with a solid projecting voice that delivers the goods. In very nice condition with just some honest play wear. Fishman pickup and original case.
You don't have to play bluegrass music to appreciate this fine guitar.
Galloup Guitars "Classic"
Galloup Guitars "Classic"
This was made by Bryan Galloup for a luthier's invitational show in Montreal about a dozen years ago. Bryan was showing off some new inlay techniques with this one. The image on the fingerboard is of Elvis Presley from a jail scene in "Blue Hawaii".
The slope shoulder Classic model is not in the current catalog, but a visit to
www.galloupguitars.com
reveals that the current base is $18,500.00
This superb guitar is made from sitka spruce and Indian rosewood with stunning art deco inlays.
$3,600.00
Discover your next favorite instrument

or just Say Hello!
Call or email — we will be honored to help you find the perfect guitar — or fix the one you love:
FIND US
Fine acoustic guitars, fretted instruments, and repairs.
Guitar Tex will help you find the perfect guitar, and can repair the guitar you love. We want to get to know you and will spend the time to help you select the instrument that will make you happy.
Guitar Tex
4330 McCullough
San Antonio, TX 78212
(210)822-1595
www.GuitarTex.com
info@guitartex.com
We are easy to reach from both the San Antonio International Airport and from Downtown.
From Downtown
We are at 4330 McCullough, and McCullough goes all the way downtown. In the old days, it was one of the few routes out of down town that didn't cross railroad tracks. (A big deal when you have a wagon – I've heard. Never experienced it.) The maps and driving directions will help alot. Easy to know when you're getting close because we're just past the traffic circle/fountain.