gui
Thanks for visiting Guitar Tex.
Since 1999, we have been here in San Antonio offering great guitars, guitar repair, and service.
Guitar Tex has been serving San Antonio and South Central Texas since 1999 when we opened as a repair shop with a few used instruments for sale.
16 Years
Fast forward 16 years and we're still a small shop, but we've grown into a full blown fretted instrument store with acoustic guitars being our specialty.
We carry acoustic guitars by C.F. Martin, Larrivee, Huss & Dalton, and Recording King and electric guitars by ReverendTake the time to peruse our site which is being updated regularly.
If You're visiting San Antonio from another country or another town pay us a visit. We easy to get to, just 3.5 miles North of downtown.
GUITAR TEX PAYS THE HGHEST PRICES FOR SELECT USED GUITARS.  We only want the good stuff.

Guitar Tex has products and gear that you won't find in either the big box stores or other area stores. We have a knowledgeable and helpful staff that can assist you in any way needed to find the right instrument. Scroll down to find us and like us on Facebook or view our items on Reverb.com
Gravity Gold Picks in San Antonio
We are among the first dealers for these amazing plectrums getting our first batch about a month ago and we quickly sold out. The list price was $29.00, but we offered an introductory price of $25.00. We have now restocked and the price has been lowered to $20.00. That will surely seem like madness to some, but to those of us who have become converts there is simply no substitute.
Here's a trio of 1967 Fender Coronado II Wildwood models, including a very rare bass. One owner instruments. It would be perfect to have the trio stay together. We will sell all 3 for $6,000.00. Otherwise L-R: Wildwood I $2,000; Wildwood Bass II $2,400; Wildwood II $2,100.                                                                                                                                                 Designed by Roger Rossmeisl, who designed many of the iconic guitars for Rickenbacker before joining Fender where few of his designs gained popularity. Interestingly, the Coronado series are far more popular and desirable today than they were originally. Fender even has a Reissue. The so called Wildwood guitars were named because the beech trees from which the wood was derived was actually injected with dyes giving the woods some truly wild looking colors, most of which faded with time. This trio still shows a good deal of color since they've been stored since 1975.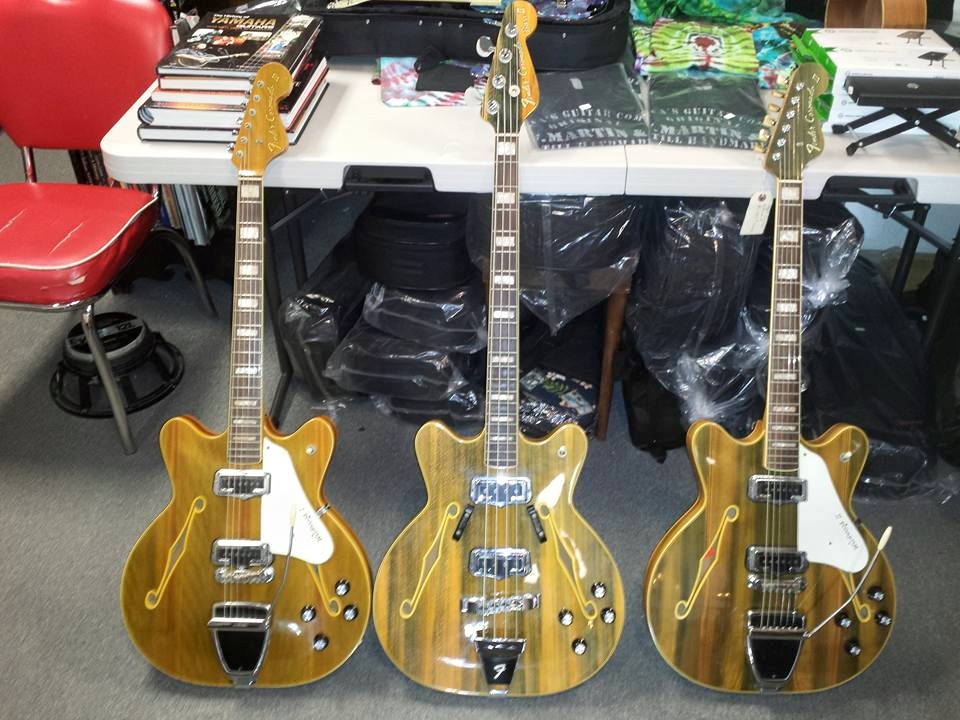 LoPrinzi tenor ukulele made in Clearwater, Florida of solid American cherry wood. Donna LoPrinzi has carried her father Augustino's vision into a new generation making world class guitars and ukuleles. The LoPrinzi ukulele is by far the best value in a premium American made ukulele. Compare this to a Collings or other USA made ukes at twice the price.    Cherry tenor price: $660.00                                                                                                   Visit www.takumiukulele.com  for details on all LoPrinzi ukuleles.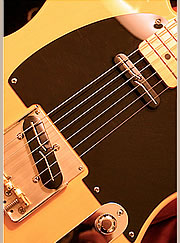 LINDY FRALIN PICKUPS.
If you have a good guitar you can make it a great guitar with a set of Lindy Fralin pickups. We have a good selection of single coil Strat and Tele style pickups as well as some Pure PAFs to add some sparkle and chime to your guitar that may be equipped with some generic humbuckers.                                                                                                                                                                   
We just got in these really nice Access Cases for dreadnought guitars. These really are a cut above your average case with heavy duty construction, very attractive brown vinyl covering for a vintage look, and lush burgundy velvet interior. High quality brass hardware with a lock and key for added security. $129.00 each
 

"My guitar hasn't played this good in 50 years", said the customer who picked his 50 year old guitar after having it set up for the first time ever. To which my reply was "You could have done this 50 years ago".

If your guitar isn't playing right bring it in and let us set it up to your liking.

                                                                                                                            

             

                                                                        
  We speak mandolin, banjo, ukulele as well as the language of guitar.
Like us on our GuitarTex Facebook page. Be informed of new arrivals, sales and special events.
https://www.facebook.com/pages/GuitarTex/138543299538663?fref=ts                                 visit our Facebook page for daily updates, new arrivals, and specials. And LIKE US

SHOP SMALL   SHOP LOCAL    BUY AMERICAN
Monday through  Friday 10-6; Saturday 10-5
BUY IT HERE!