most unique inventory for san antonio musicians
A Reverend dealer since 2004, Guitar Tex is one of only two Reverend dealers in Texas. Consequently, we get folks from all over the state dropping in to try them out.
Reverend guitars are built in the Mirr factory, known for making boutique quality instruments in South Korea. From there the assembly and set up is done by a small team of pros in Toledo, Ohio. Reverend guitars and basses are designed by founder Joe Naylor. Reverend guitars and basses are uniquely original while remaining true to the traditional American ethos with forward thinking and cool looking instruments.
Visit our Reverb store for updated inventory.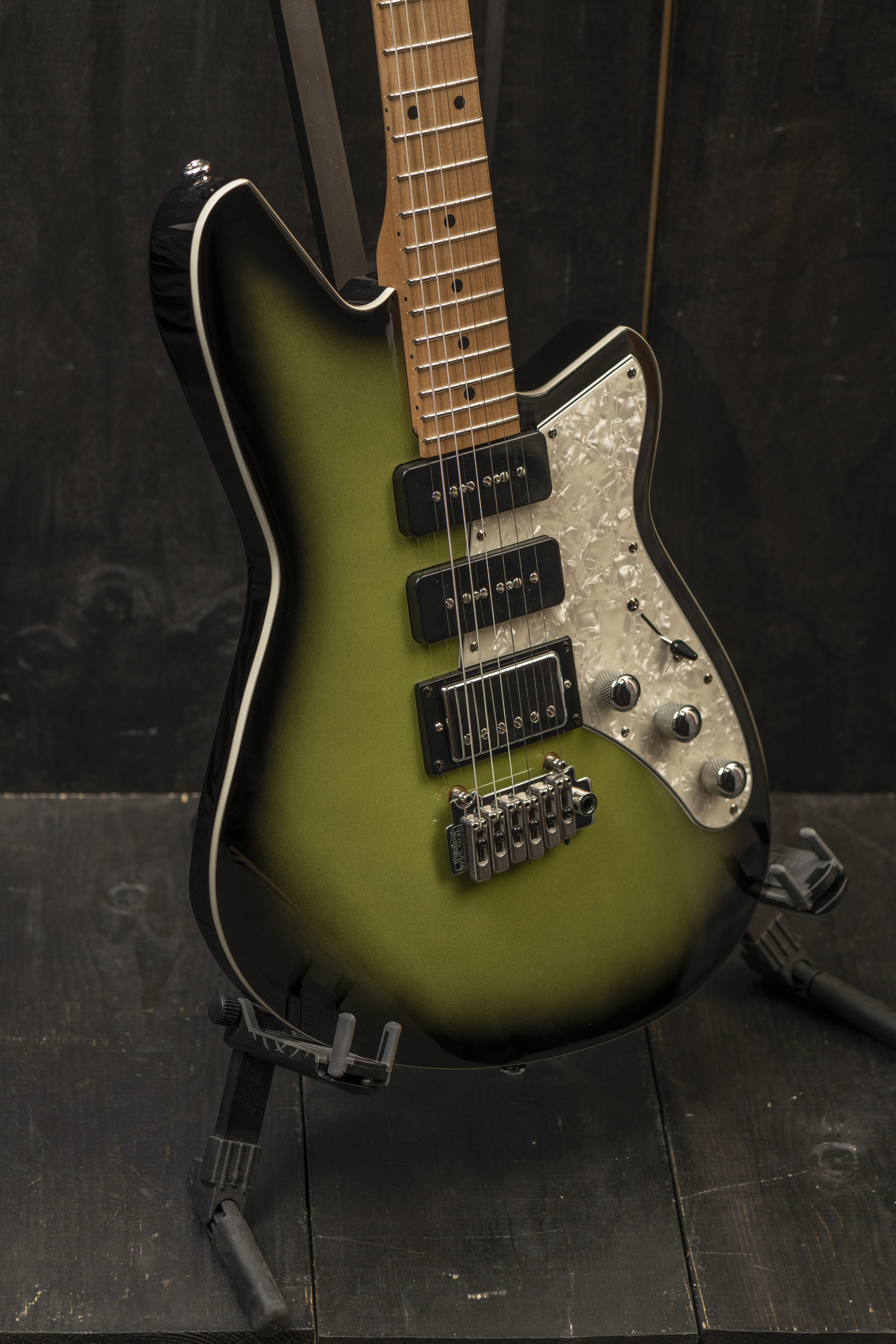 The pickup combination works especially well and takes the common HSS in a whole different direction. Korina body, roasted maple neck, and one of the coolest colors ever. As always with Reverend, the quality and the set up are flawless.
Reverend puts it's Greasy T pickup at the bridge and a Retro Blast pickup at the neck. A solid Korina body, the guitar includes TOM with Stop Tail Bridge, roasted Maple neck with 25.5 inch scale, and a roasted Maple fingerboard with 12″ radius and 22 frets.
The Reverend Descent W is a baritone with a 26 3/4 scale and a custom SIT 12-68 string set. Features a pair of Railhammer Humcutter pickups with Wilkinson tremolo.

The Reverend Double Agent W gives you a bridge humbucker and a P-90 at the neck with a Wilkinson tremolo. Roasted maple neck and 25.5 inch scale. This one is finished in a deep green.

Reverend Double Agent OG (SOLD)
The Reverend Double Agent OG features a humbucker in the bridge position and a P-90 at the neck and TOM/Stop Tail Bridge. Roasted maple neck and 25.5 inch scale.

Reverend Airwave 12-String (Sold)
Reverend says the Airwave 12-String brings "larger than life tone and style, not larger than life problems," and that rings true in our experience. The bridge is fully and independently intonable for all 12 strings. The 24 3/4 inch scale length reduces string tension which offers both greater ease of play and less stress on the neck. With 9A5 Bridge and Neck pickups, korina semi-hollow body, solid spruce top, and the Mulberry Mist finish, this is a stunning instrument.

Reverend Roundhouse (Sold)
The Reverend Roundhouse is a classic single cutaway reimagined for today's player. Carved top and set neck, it's lightweight and balanced but offers expressive tone.
Discover your next favorite instrument

or just Say Hello!
Call or email — we will be honored to help you find the perfect guitar — or fix the one you love:
FIND US
Fine acoustic guitars, fretted instruments, and repairs.
Guitar Tex will help you find the perfect guitar, and can repair the guitar you love. We want to get to know you and will spend the time to help you select the instrument that will make you happy.
Guitar Tex
4330 McCullough
San Antonio, TX 78212
(210)822-1595
www.GuitarTex.com
info@guitartex.com
We are easy to reach from both the San Antonio International Airport and from Downtown.
From Downtown
We are at 4330 McCullough, and McCullough goes all the way downtown. In the old days, it was one of the few routes out of down town that didn't cross railroad tracks. (A big deal when you have a wagon – I've heard. Never experienced it.) The maps and driving directions will help alot. Easy to know when you're getting close because we're just past the traffic circle/fountain.