most unique inventory for san antonio musicians
Larrivee was the first line of guitars we took on when we opened back in 1999. Great then, we feel that they have gotten even better today. Jean Larrivee has been making world class guitars for more than 50 years. In the early years they became noted for their elaborate and ornate inlay work done by Jean's wife Wendy. You can still get a fancy inlaid Larrivee, but the 2 & 3 series is their entry level which offers features like a bound ebony fingerboard and bridge; all solid wood construction; maple wood body binding, dovetail neck joint. Since they moved their manufacturing from British Columbia to Southern California they have evolved and developed guitars that have a broad appeal to players of all styles. The 40, 44, 50, and 60 Series guitars are voiced to produce a classic "American" sound. Lately Larrivee has once again began making some outstanding electric guitars.
Today there are many highly regarded Canadian luthiers who apprenticed under Jean Larrivee and his influence is reflected in their work.
Visit our Reverb store for updated inventory.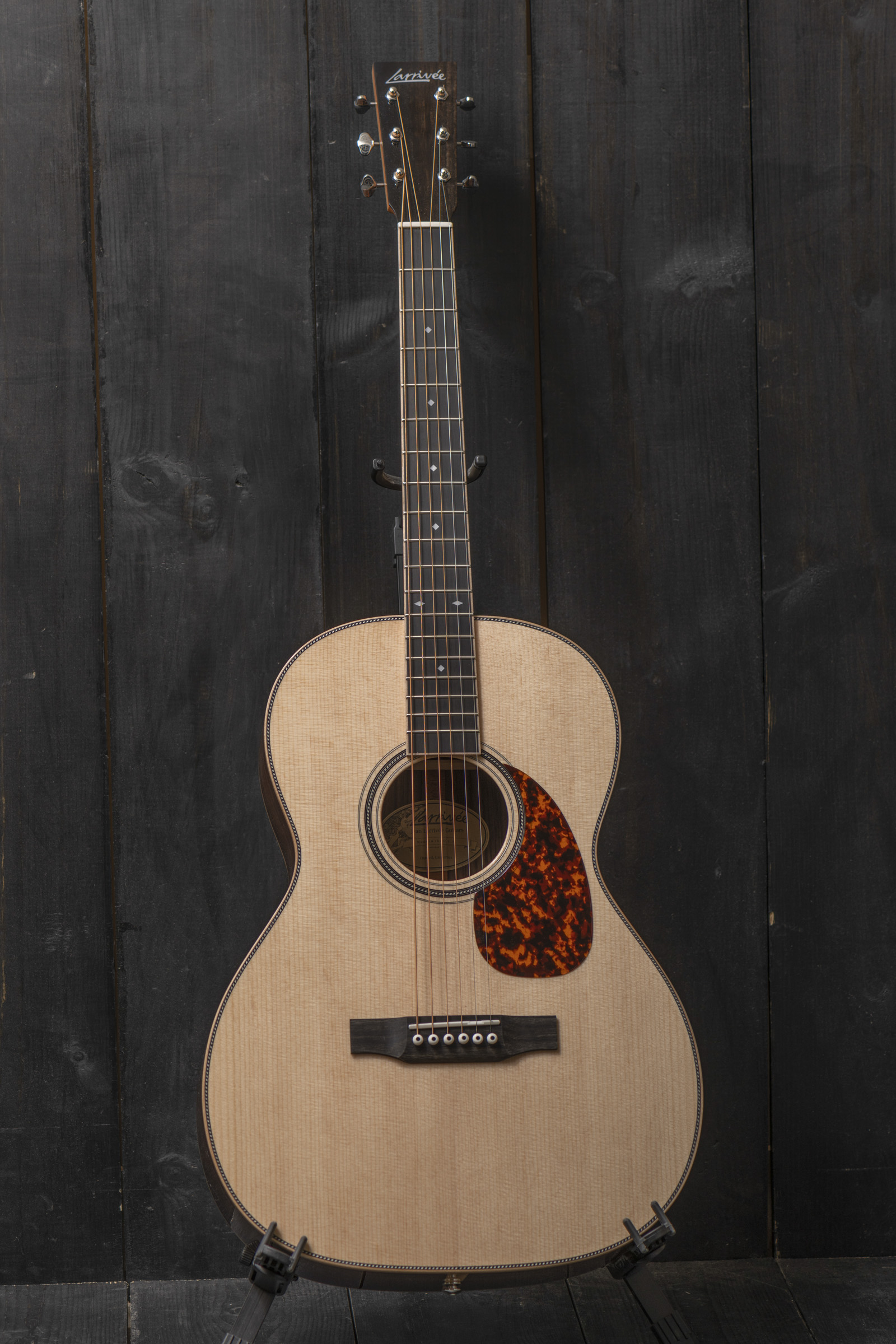 Another lovely gem from the folks at Larrivee.  Has all the volume and punch of a big dreadnought with more complexity than commonly heard in a dreadnought. The 44 Series differs from the 40 Series in that it has a gorgeous gloss top that both looks great and provides protection. 12 fret guitar with a solid headstock makes for for much easier restringing than a slot head. Sitka spruce and Indian rosewood with maple bindings and ebony fingerboard and bridge. Set up nicely and playing great. Includes original Larrivee case. Has 25.5″scale length, 1.75″ nut width, and 2.25″ saddle spacing. Price: $2,549
This Larrivee OM-40R Limited Edition features their "fast neck," a feature typically offered as a special order only. Recently they did a small run of these vine inlay fast neck models to their dealers. The neck is a narrower 1 & 11/16″ and 1mm is shaved off the back of the neck. Sitka spruce and Indian rosewood with original Larrivee case. Some folks prefer the narrower nut and trimmer neck, but there are few choices among the major guitar makers. Price: $2,499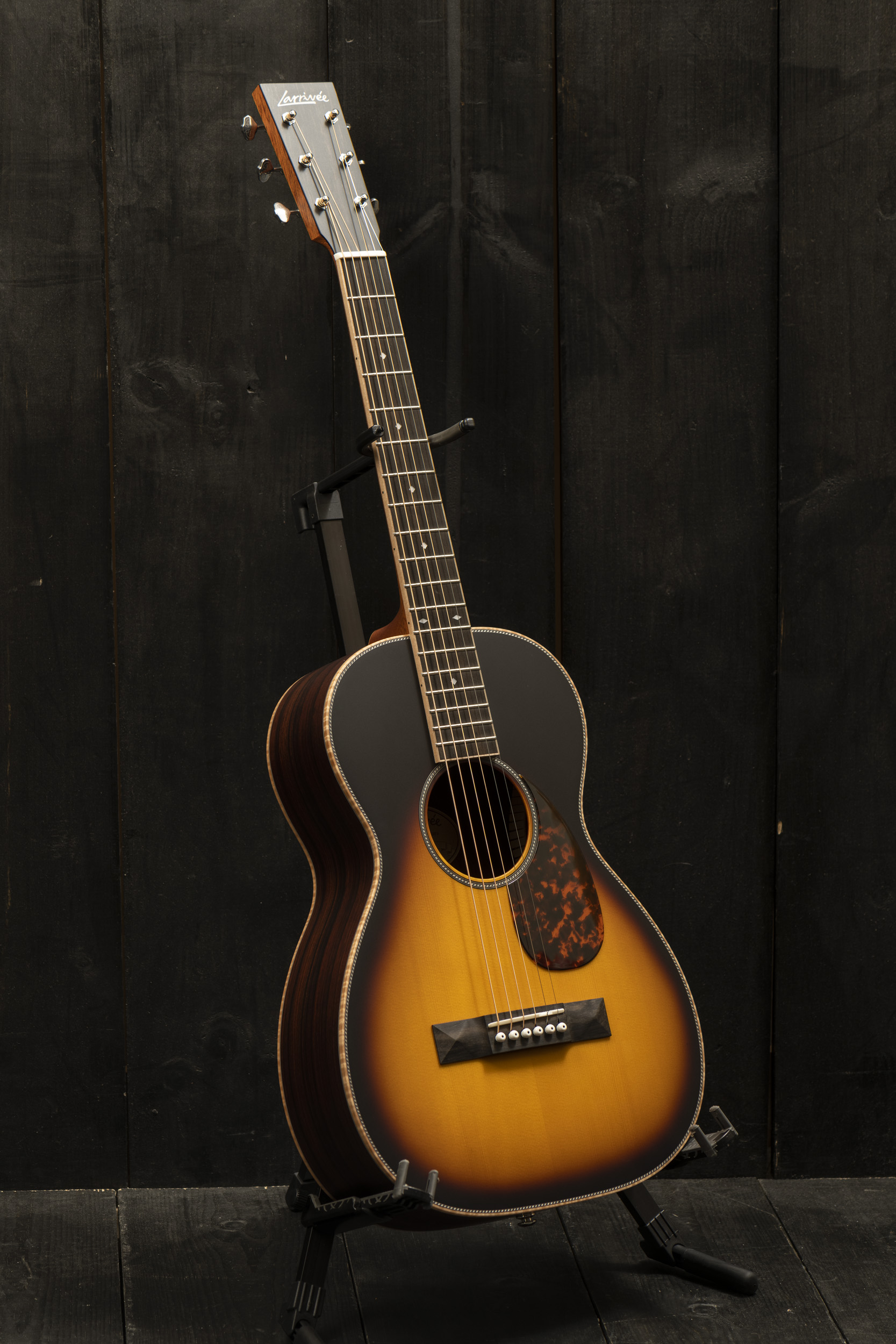 O-40 Special Edition is a 12-fret guitar that features a burst finish over a Sitka spruce top with rosewood back and sides. Other features include a pyramid bridge and flamed maple and rope binding. Price: $2,549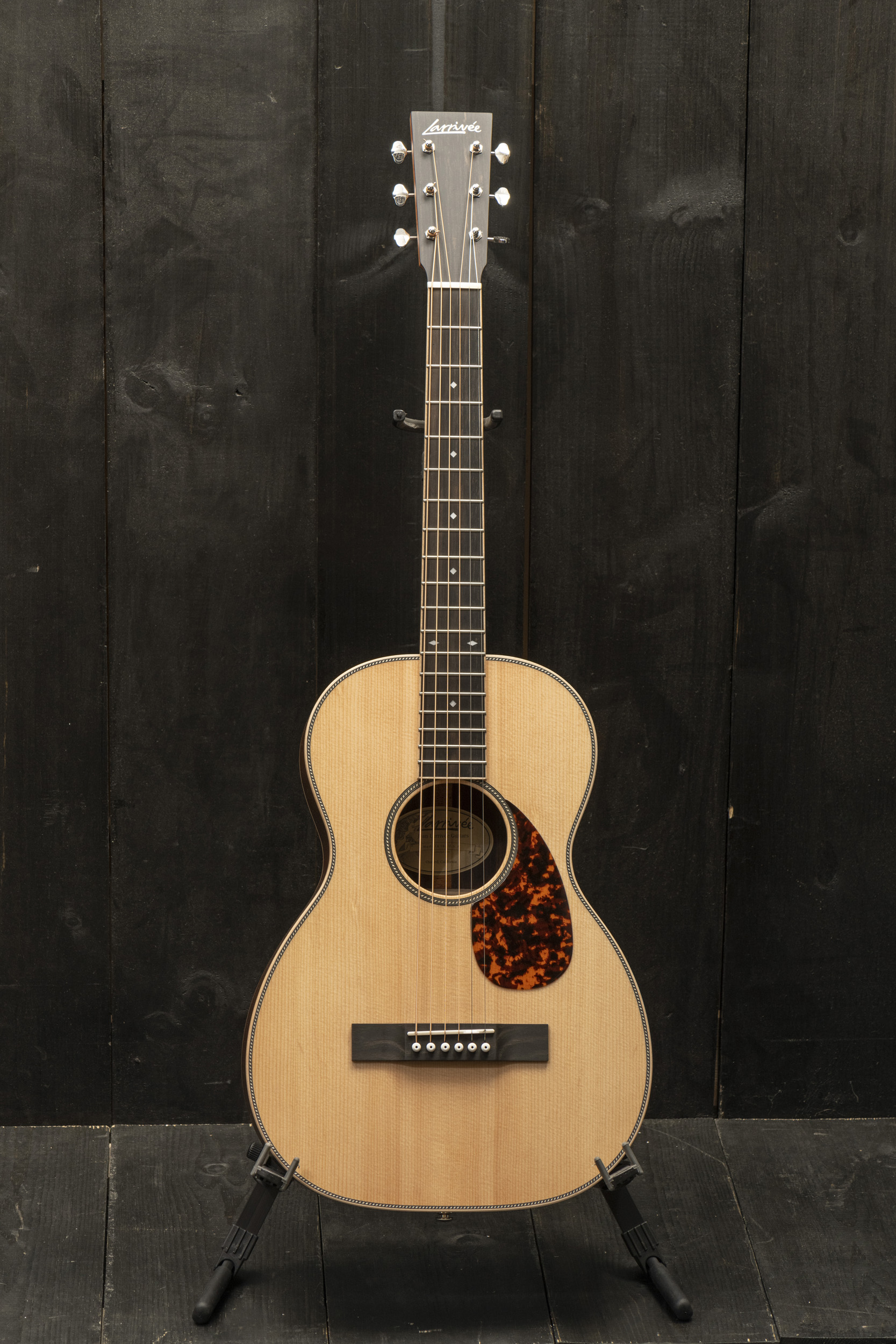 O-40 R Legacy Series is a 12-fret guitar that features Indian Rosewood back and sides with a Sitka Spruce top. Includes case. Price: $2,399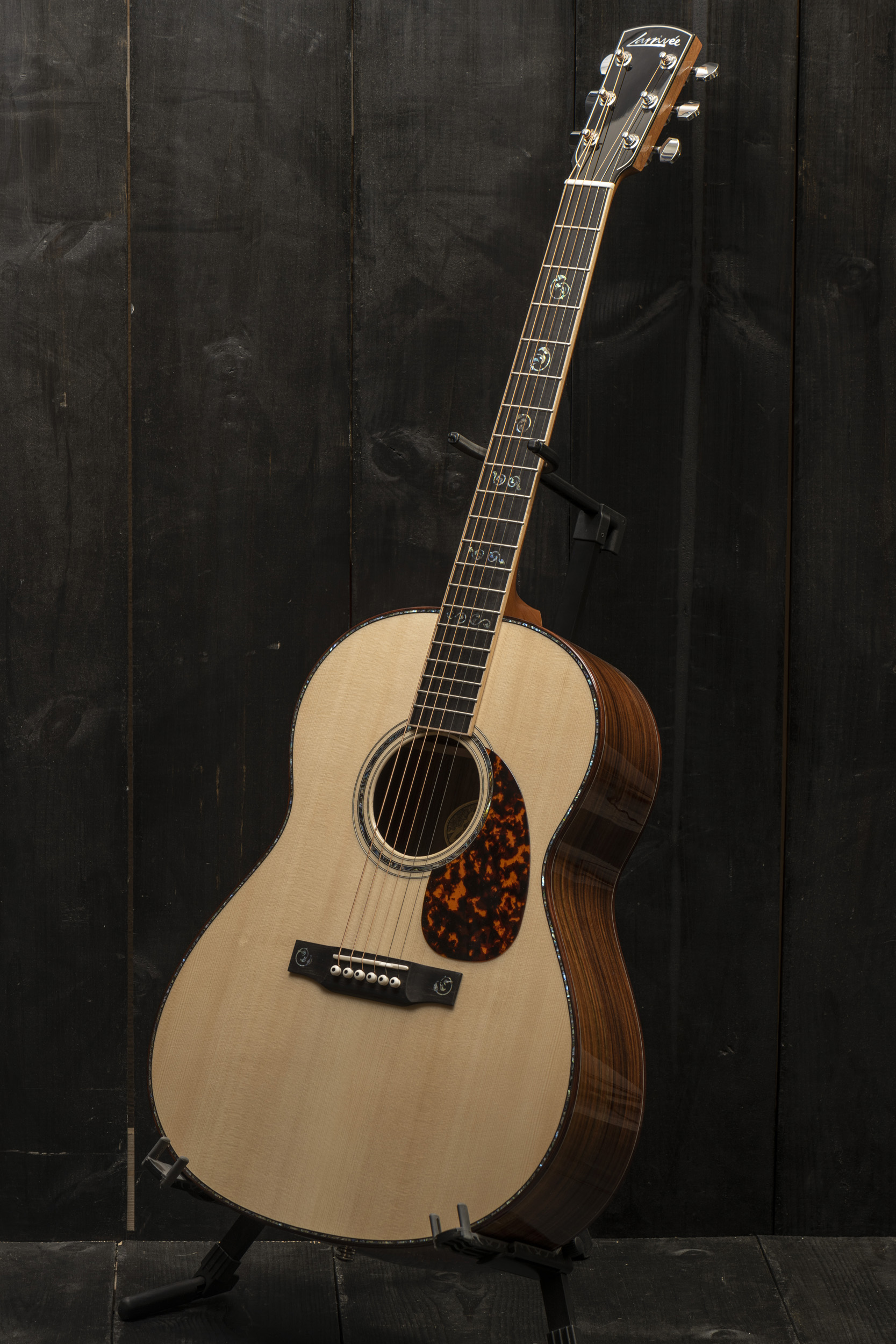 L-model instruments are a shape and design unique to Larrivee, and the 10-series instruments feature elegant appointments and choice tone woods. This L-10 features an alpine moon spruce top along with Wendy Larrivee's fine inlay work. A gorgeous instrument, it plays even better than it looks. Price: $4,1905
Larrivee LV 09RE with "no cut" LR Baggs Anthem. Price: $3,486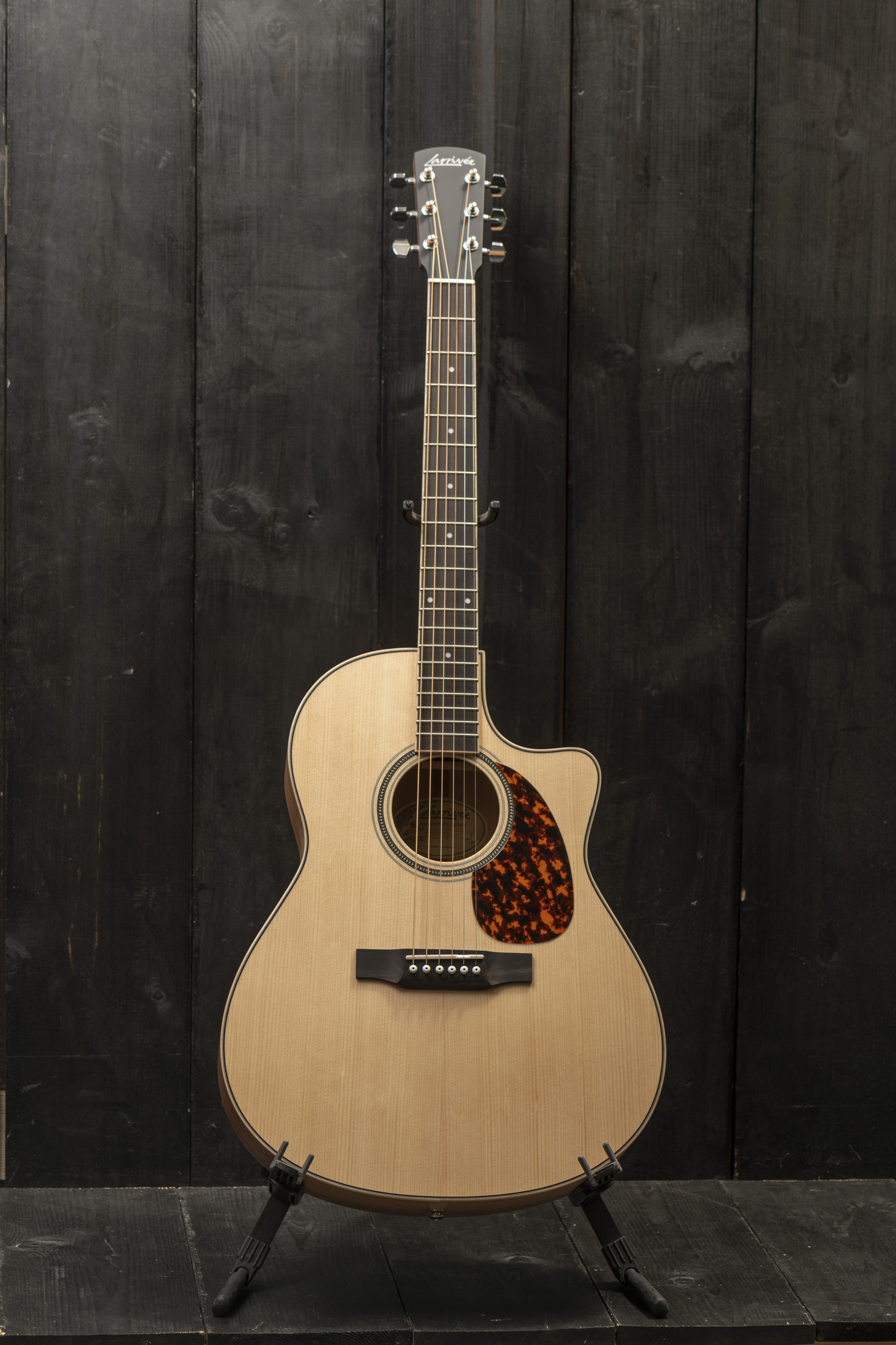 The Larrivee LV-03 features Mahogany back & sides, Sitka Spruce top, Mahogany neck with a satin finish. Price: $2,150
This Larrivee D-40RW features a Sitka spruce top with rosewood back and sides. Price: $1,998

Larrivee OM-03 features Sitka spruce top with mahogany back, sides, and neck; fingerboard is maple-bound ebony. Price: $1,519
Discover your next favorite instrument

or just Say Hello!
Call or email — we will be honored to help you find the perfect guitar — or fix the one you love:
FIND US
Fine acoustic guitars, fretted instruments, and repairs.
Guitar Tex will help you find the perfect guitar, and can repair the guitar you love. We want to get to know you and will spend the time to help you select the instrument that will make you happy.
Guitar Tex
4330 McCullough
San Antonio, TX 78212
(210)822-1595
www.GuitarTex.com
info@guitartex.com
We are easy to reach from both the San Antonio International Airport and from Downtown.
From Downtown
We are at 4330 McCullough, and McCullough goes all the way downtown. In the old days, it was one of the few routes out of down town that didn't cross railroad tracks. (A big deal when you have a wagon – I've heard. Never experienced it.) The maps and driving directions will help alot. Easy to know when you're getting close because we're just past the traffic circle/fountain.