most unique inventory for san antonio musicians
Not unlike violins and other classical stringed instruments, the archtop guitar is identified by the convex shape of the back and top of instrument. Some are carved from solid woods and others are formed with pressed plywood. We keep our eyes open for superior-quality instruments.
Visit our Reverb store for updated inventory.
This guitar has been lovingly played, but not abused. Some scratches by the bridge, as shown, a few tiny scuffs here and there that are hard to even see. Owned by David Waters, who was inducted into the Western Swing Music Society of the Southwest in July of 2022. It has been used on several ward winning recordings by Billy Mata and The Texas Tradition, a crackerjack band if there ever was one. Includes a well-fitting hard wooden case and a beautiful hand tooled leather strap with the word "Kodak" on it. (Mr. Waters names all of his guitars and this one being an Eastman, he felt that Kodak was a fitting name.)  Kent Armstrong floating jazz pickup. Fully carved spruce top and flamed maple back and sides. Sounds great unplugged or amplified. Price: $1,950
The year this 1947 Epiphone Triumph acoustic archtop was birthed was also the year Jackie Robinson crossed the baseball color line and the year of the premiere of Tennessee Williams' play A Streetcar Named Desire. Harry S. Truman was president, and the Roswell UFO incident occurred. Fully carved spruce and maple makes for the most labor intensive guitar construction, and this one plays wonderfully after all these years.

Eastman John Pisano (Sold)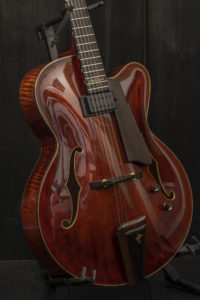 Eastman Signature Archtops honor both their tradition of building handcrafted instruments and the artists and luthiers who put their names on them. The John Pisano model features solid woods with a carved spruce top and maple back and sides.

1948 Epiphone Zenith (Sold)
This is a 1948 Epiphone Zenith acoustic archtop. Showing the results of a life as a working instrument, it wears its character authentically (none of that relicing stuff here).

2006 Eastman 805 CE (Sold)
This 2006 Eastman 805 CE features a floating pickup and is constructed of solid woods including a spruce top and solid handcarved maple back. It is in excellent condition.

Discover your next favorite instrument

or just Say Hello!
Call or email — we will be honored to help you find the perfect guitar — or fix the one you love:
FIND US
Fine acoustic guitars, fretted instruments, and repairs.
Guitar Tex will help you find the perfect guitar, and can repair the guitar you love. We want to get to know you and will spend the time to help you select the instrument that will make you happy.
Guitar Tex
4330 McCullough
San Antonio, TX 78212
(210)822-1595
www.GuitarTex.com
info@guitartex.com
We are easy to reach from both the San Antonio International Airport and from Downtown.
From Downtown
We are at 4330 McCullough, and McCullough goes all the way downtown. In the old days, it was one of the few routes out of down town that didn't cross railroad tracks. (A big deal when you have a wagon – I've heard. Never experienced it.) The maps and driving directions will help alot. Easy to know when you're getting close because we're just past the traffic circle/fountain.