GUITAR TEX HOUSE STRINGS. Custom made to our gauge specifications by  CURT MANGAN in Cortez, Colorado. These are acoustic guitar strings in either 80/20 Bronze or phosphor bronze in 4 gauges: SAN ANTONIO LIGHTS .011-.052; MARFA LIGHTS .012.054; OLMOS LIGHT .012-.056 (light top/medium bottom); and TEXAS MEDIUMS .013-.056. These are excellent strings and we have players from all over the USA who swear by these strings. If you like a traditional uncoated and untreated string, we highly recommend that you try our house strings made by CURT MANGAN.
WE carry a broad selection of strings from these makers:                                                                                     Curt Mangan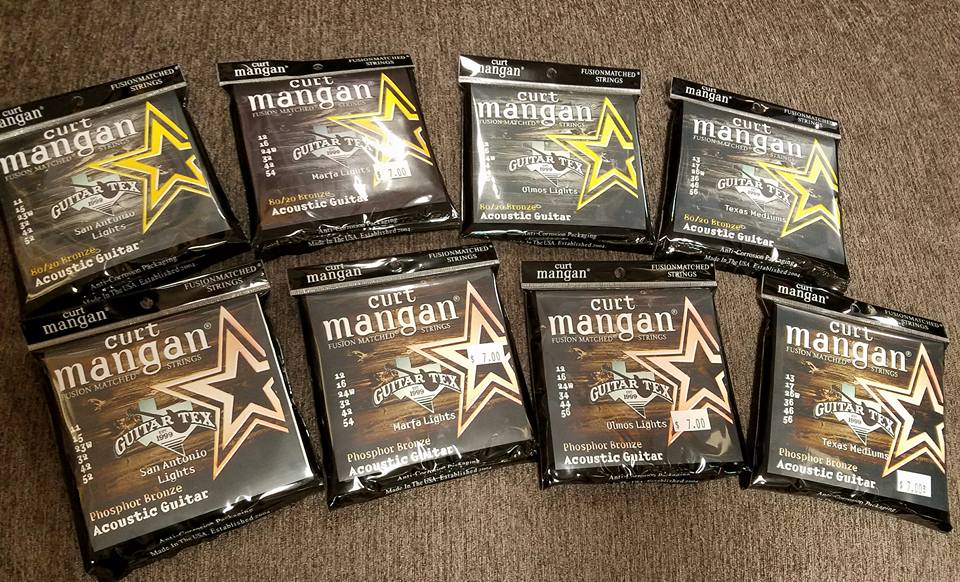 Guitar Tex also carries hard to find strings for tenor banjo, baritone guitar, dulcimer, and more. We have a good selection flatwound strings for guitar, bass, and mandolin.
Martin  strings
We have a broad selection of Martin Strings, but we especially like the new Monel Retro Strings. So do our customers.