most unique inventory for san antonio musicians
Way back in 1999 we wanted to offer a good quality banjo at a fair price. Right at the same time Gold Tone emerged out of Florida with a similar vision. Today Gold Tone makes and carries all kinds of instruments beyond the banjo and their banjo line runs the gamut from entry level to professional. Open back or resonator. 
Today other banjo makers have stepped up to provide quality products that simply didn't exist in years past. We're pleased to carry banjos by Recording King and any good used banjo that we can find.
Visit our Reverb store for updated inventory.
The new Recording King Elite 75 banjo is modeled on the Mastertone banjos of the 1930s, the most sought after vintage banjos ever made. Banjo aficionados agree that this one hits the mark on all counts at less than 1/2 the price of an original. Price: $1,799.00 w/case
Recording King  Madison OT26
The RK Madison OT26 features the Whyte Laydie tone ring, delivering a traditional tone with a percussive lilt. A hand-rubbed satin finish, maple neck with adjustable truss rod, and a true steam-bent maple rim make this a mighty pleasing vintage-style picking machine. 
The scalloped Whyte Laydie tone ring is prized for its warm but punchy tone, allowing each fundamental note to speak clearly without distracting overtones. A no-knot tailpiece and precise tension control from the 24-bracket tension hoop add to the features, along with dual coordinator rods & truss rod, Remo FiberSkyn head, and Mastertone-style armrest.
 Price: $799. Case or bag extra.
Gold Tone OB-3 "Twanger" is a refined instrument based on J. D. Crowe's circa 1929 OB-3 Gibson with a no-hole tone ring. Our price is $1,799.
Gold Tone MC-150 is $719. Bag or case available for extra charge.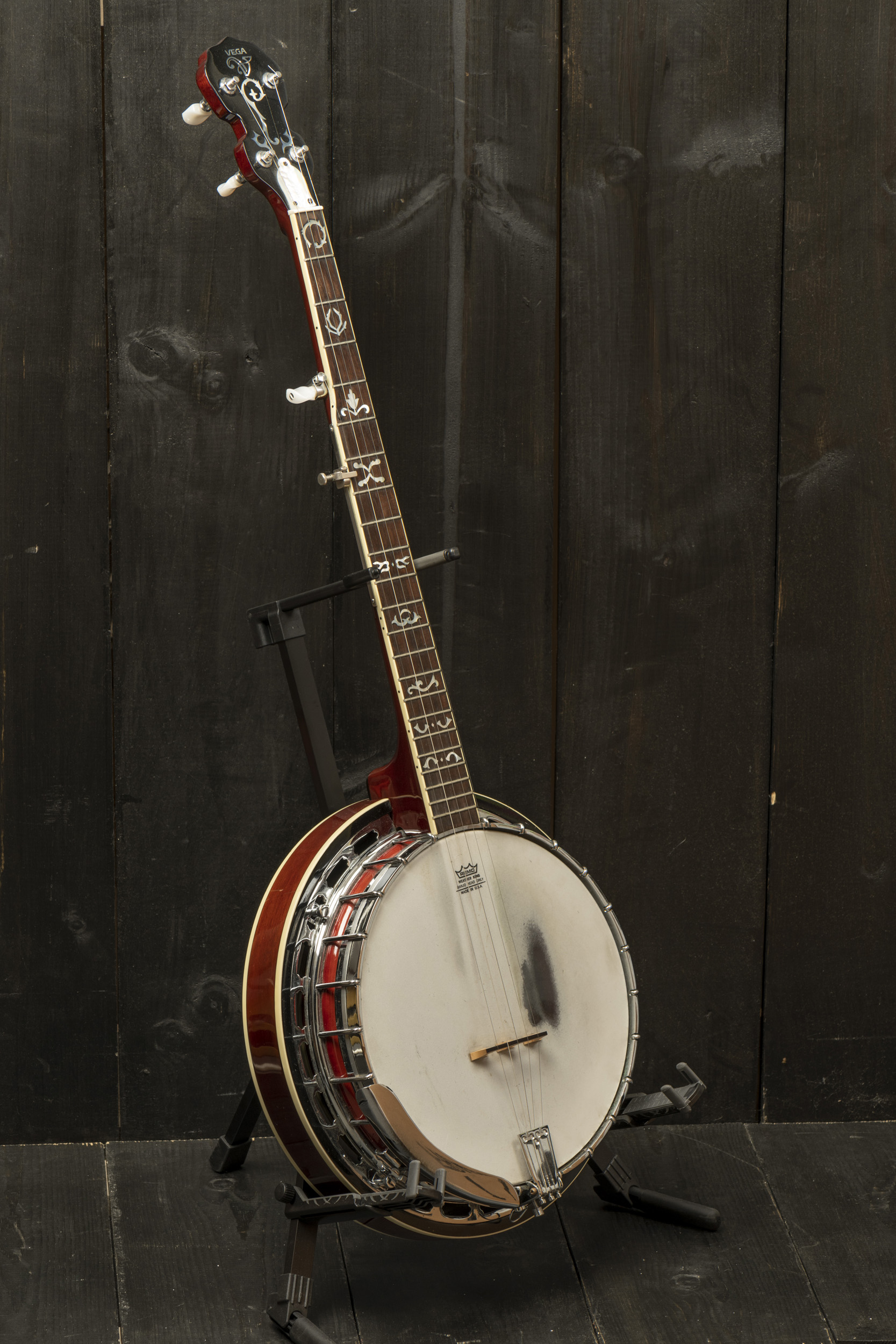 Vega 5-String Banjo (Pre-owned)

Discover your next favorite instrument

or just Say Hello!
Call or email — we will be honored to help you find the perfect guitar — or fix the one you love:
FIND US
Fine acoustic guitars, fretted instruments, and repairs.
Guitar Tex will help you find the perfect guitar, and can repair the guitar you love. We want to get to know you and will spend the time to help you select the instrument that will make you happy.
Guitar Tex
4330 McCullough
San Antonio, TX 78212
(210)822-1595
www.GuitarTex.com
info@guitartex.com
We are easy to reach from both the San Antonio International Airport and from Downtown.
From Downtown
We are at 4330 McCullough, and McCullough goes all the way downtown. In the old days, it was one of the few routes out of down town that didn't cross railroad tracks. (A big deal when you have a wagon – I've heard. Never experienced it.) The maps and driving directions will help alot. Easy to know when you're getting close because we're just past the traffic circle/fountain.