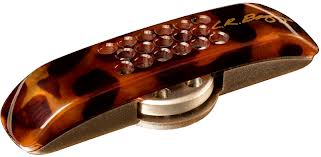 L.R. BAGGS LYRIC ACOUSTIC MICROPHONE 
Guitarists have struggled for many years to realize a stage sound that replicates an acoustic guitar response when properly placed in front of a great guitar. Internal microphones have been around for awhile, but the reality is often less than desirable due to unwanted reflective and ambient sounds. Lloyd Baggs' engineering and design genius has created the Lyric and it's the answer to our prayers. Easy to install and simple to use. Best of all, it sounds like your guitar. $199.00
 Guitar Tex is pleased to add Schatten Design guitar and acoustic instrument pickups to our product line. Schatten is Canada's largest pickup manufacturer and even makes coil winding machines for pickup makers. Their acoustic pickups are easy to install on the bridge plate, and weigh mere grams, detracting not at all from your guitar's acoustic tone. They make pickups for most any acoustic instrument.  We even have pickups for Selmer Maccaferri style guitars that are difficult to amplify. Bot so with the Schatten pickup.
Guitar Tex carries 3 lines of acoustic instrument pickups: L.R.Baggs, Fishman, and K&K.  Each one distinctly different from the other and each one at the very top of their class. We've sold and installed nearly 3,000 acoustic guitar pickups in the 16 years of Guitar Tex.

Shadow Panamag Wireless Pickup System. German engineering, rechargeable, transmits 100 feet, built in tuner, volume, tone, phase. Requires no modifications.  $499.00
Looking for an acoustic-electric guitar? While we do offer many choices in fine acoustic-electric guitars, many of our nicer guitars do not come with factory pickup systems. Since we opened in 1999 we have installed over 2000 acoustic instrument pickups. We have installed every major brand and type of acoustic pickups ever made. We believe that it's often wiser to use an after market pickup rather than have a permanent hole in the side of your fine guitar that may or may not remain "state-of-the-art" while your guitar will be a great acoustic guitar for as long as you take proper care of it. The "best" pickup is very subjective and what works wonderfully well for one person in her guitar can have disastrous results in another for a variety of reasons. Guitar Tex has the largest & broadest selection of acoustic pickup choices in Texas. We have experience with all types of acoustic pickups and we're happy to offer advice. An after market pickup such as the Fishman Matrix Infinity, L.R. Baggs Element Active, M-1 or M-80 soundhole, Anthem, Lyric Mic, or I-Beam, or the K&K Pure Western are excellent choices for after market pickups that will not compromise the integrity of your fine acoustic guitar with an unsightly hole in the side of your guitar. For those on a budget we just got in some Bill Lawrence sound hole pickups that aren't expensive at $48.00-$70.00 and don't require any modifications on your guitar. Here's a little secret: Bill Lawrence pickups sound just as good as or better than a lot of those expensive pickups and they're made right here in the USA. Some of these newer pickups such as the Fishman Matrix Infinity, L.R. Baggs Element Active, and the K&K Pure Mini provide the player with easily accessed discrete controls inside the sound hole or you can use an external preamp. If you wish to buy a guitar from us we can often have a pickup installed within 24 hours. GUITAR TEX is the only Preferred Stocking Dealer for LR Baggs pickups and products in San Antonio.
LR BAGGS M-80 Unbelievably great sounding pickup. If you have a less than positive impression of what a sound hole pickup is like the M-80 will change your mind. If you like sound hole pickups the M-80 will blow your mind. This is an enormous improvement over everything that has preceded it. There have been other magnetic pickups that claimed to pickup the "body" of the guitar and the results have often been unpleasant microphonics. Not so with the M-80; somehow the engineers at LR Baggs have determined just the right amount and the right frequencies, resulting the most natural sounding magnetic pickup ever. List Price: $359.00 OUR PRICE: $250.00     IN STOCK L R BAGGS ANTHEM Tru-Mic technology. This is what we've been hoping for in acoustic instrument amplification; accurate reproduction of the sound of wood & steel in a fine acoustic guitar. I put one of these in my Santa Cruz RS model & I'm completely thrilled with what I can get with this unit. MSRP: $429.00. OUR PRICE: $319.00                                                  IN STOCK WE ALWAYS HAVE A GOOD SELECTION OF ACOUSTIC PICKUPS IN STOCK: Fishman, L.R. Baggs, K&K, Sunrise, & others Fender pickups in stock: Custom Shop Texas Specials for Telecaster. $129.00 set Vintage Noiseless for Stratocaster. white covers $169.00 set RESONATOR GUITAR PICKUPS IN STOCK:                                                                     Highlander IP X inline    $249.00                                                                                       Highlander Magnaphonic for tricone $299.00
---
A note about Lindy Fralin Pickups:   If want you're wanting is the classic tones of great vintage guitars with sparkle & chime that you're not getting from other makes, Fralins are for you. Vintage Guitar Magazine did a humbucker pickup comparison awhile back with Fralins vs. some other "boutique" pickups and some actual late 50s PAF pickups that are considered the Holy Grail of vintage tone. Guess what? The Lindy Fralin pickups were the unanimous winner. Lindy is a fine musician himself & understands the nuances of tone like no other pickup maker I know. Truly a "hand made" pickup by good Americans in Richmond, Virginia. We keep a good selection of Fralin pickups in stock, but if we don't have them it usually takes about y=two weeks.
Hum cancelling P-90 set with black covers. $260.00
Tele set SP 43. 10k bridge pickup; 9k neck pickup $180.00
Strat Vintage Hot w/base plate. $260.00 set
Pure PAF Humbuckers  $260.00 pair 0