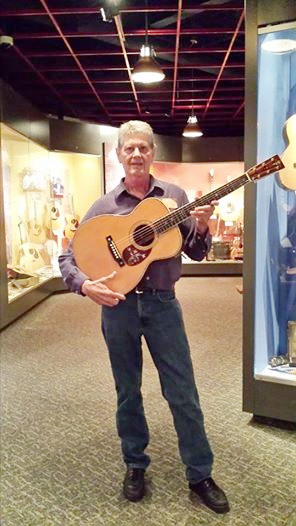 I think it's appropriate that in our "About Us" page that we actually tell a little something about who we are at Guitar Tex. Beginning with myself, store owner Mark Waldrop.
My first guitar was a $25.00 Silvertone acoustic bought for my 12th birthday in 1962, a time when the guitar was just emerging from the Dark Ages but before the Enlightenment in 1964 when The Beatles got a whole generation of of young people to start playing the guitar. My first guitar inspirations were folks like Duane Eddy, The Ventures, and The Kingston Trio. The first song I ever sung in public was Richie Valens' ballad "Oh Donna" at a birthday party gig in 1963.                                                                                                 In 1969, after failing at being a college student, I moved to New York  City and quickly became immersed in the downtown music scene that included the coffee houses in Greenwich Village and The Fillmore East in the Lower East Side. I got to play in some famous and iconic places and share the stage with some amazing talent ( I did a show with Lonnie Mack and got to handle the most famous Gibson Flying V ever made). A chance visit to David Bromberg's apartment was my first exposure to great vintage instruments.                                                                                                                                                                           While in NYC I briefly took guitar lessons from the great Roy Smeck was truly among the most incredible fretted instrument players who ever lived. Gibson had two Roy Smeck signature model guitars in the late 1920s and Bacon & Day had a stunningly jewel encrusted Roy Smeck tenor banjos. Later in the 1950s Harmony had an entire line of Roy Smeck signature  instruments; lap steel, archtop guitar, solid body guitar,  banjo, and ukulele.                                                                                                                                                                                                 With all this experience I should be some kind of killer guitarist and yet I just barely maintain a journeyman status. But I know a lot about guitars and what they do 
I opened Guitar Tex in 1999 as primarily a repair shop and a place to sell some of my used instruments. As we are now in our 14th year much has changed but my focus has always been to get great playing instruments in the hands of players who will use them and enjoy them for years to come. We offer some of the finest instruments in the world but my concern has been for the player and his or her needs rather than for collectors.
 As I look around the shop today I'm proud and pleased at the way Guitar Tex has evolved. Back in the winter of 2000 Larrivee Guitars were the first maker that would even consider taking on a modest little fledgling start-up and I've been more than pleased  with that decision. The next year we took on Weber mandolins, which was also an excellent decision. Since then our product line has expanded but our focus has never varied. Nearly every day we meet someone new who comments on what a cool shop we have. That makes me feel really good.
Simply put, GUITAR TEX has the best selection of quality acoustic instruments in South Texas and a pretty fair selection of quality electrics. No one else comes close to the variety and overall quality that we offer at GUITAR TEX.                                                             
MARTIN, LARRIVEE, HERITAGE,  SANTA CRUZ, NATIONAL RESOPHONIC, and now HUSS & DALTON GUITARS, as well as WEBER MANDOLINS and LOPRINZI UKULELES are all products carried by GUITAR TEX that can be enjoyed today and for generations to come.                                                                                                           Please don't call us a "boutique". No need to use fancy French names to describe an old fashioned, locally owned guitar shop. 
With small staff of only 4, we have about 150 years of collective experience with musical instruments:                                                                                                                                                                               John Michael Ramirez was playing in the hip local bands back when I was a kid in the mid 1960s and began working in music retail at Caldwell Music back in 1971. It's safe to say that John nearly everyone who has played music in greater San Antonio knows John Michael. He was gone from the scene for a few years but we at Guitar Tex and the rest of San Antonio are glad he's back.  
                                                                                                                                     Gus Wanner has been working with fine musical instruments for well over 20 years, including a long stint at one of Washington D.C.'s most prestigious acoustic shops. He has a wealth of knowledge and expertise on fretted instruments that is quite rare. He can also play virtually any instrument with frets, and some without.
John Thurston, the "Guitar Wrangler" repair guy has hone his skills for nearly 40 years. Since moving to Texas about 4 years ago, he's established himself as the go to repairman for South Texas. If you have an especially vexing problem or just a simple set up issue you won't find more capable help than with John Thurston.
John Thurston                                                                         
Myself,  Mark Waldrop, owner of Guitar Tex, also played in area bands in the 1960s before moving to New York City in 1969 where I played at many iconic, if not always glamorous venues like the Cafe Au Go Go, The Gaslight Cafe, and twice at The Fillmore East. In 1994 I attended Bryan Galloup's Guitar building & repair school in Michigan and I've been doing it ever since, although most repairs are handled by Mr. Thurston these days. 
We're also about professional repair and restoration of fretted instruments, so keep reading for the whole story.
Guitar Tex is owned by Mark Waldrop who is a San Antonio native but spent a number of years in Greenwich Village beginning in early 1969 where he & his musical partner Bob Rountree quickly found work in the clubs & coffee houses like the Gaslight Cafe, The Village Gate, & The Cafe Au Go Go. On weekends when not gigging Mark would be found working at the Fillmore East. These experiences exposed him to a wide range of music & styles; in the West Village opening for the likes of Doc Watson & Ramblin' Jack Elliot, & at The Fillmore East seeing some of rock music's most famous performers at their peak. Hanging out in Matt Umanov's music shop was a treat & was in some ways a later inspiration for what would eventually be Guitar Tex.  Mark considers himself a "Musicianer" as defined by the street musicians for the the early 20th century, meaning a  musician who plays all the music and styles that work; original songs, tunes from the lesser known writers, blues, jazz, country, bluegrass, swing, & pop.
Mark attended Bryan Galloup's guitar building & repair school in 1993, after moving back to San Antonio, realizing that the area was lacking in experienced guitar technicians. After honing his skills in the basement of 100 year old Alamo Music, and with $1,500.00, his tools & a handful of used instruments he set up his own shop in Olmos Park, with a vision of an intimate retail space combined with a full service repair shop.
In 2005 Gus Wanner joined the crew, bringing encyclopedic knowledge of all things guitar related & he's a fine player. Gus worked for many years at a noted guitar shop in Washington D.C. His off center sense of humor at times confuses some, but his charm and ability to communicate about all things related to fretted instruments are appreciated by the clientele and shopkeeper alike.  
Just a few blocks away is John Thurston's workshop, also a part of Guitar Tex. John is among the few repair persons deserving of the term "luthier", which is usually used to refer to a technician at best. A true luthier can & does build instruments from scratch. He knows the entire ins & outs of what makes a great guitar work properly because he's spent years studying such things & practicing his craft. Whether it's a simple set-up, refret, structural repair or cosmetics John brings a masters' touch to the job & you can be assured of a job done right & done well. John has over 30 years of experience in fine instrument repair & building.
And the latest "John" to join us is John Michael Ramirez, known to all musicians in San Antonio. John knows the music retail business as well as anyone in San Antonio and is a heck of a fine musician, too. We are proud and pleased to welcome John with us at Guitar Tex. He's been away from the retail scene for a few years, so stop in a say "hello" to an old friend.
We are all working musicians who understand the needs of working musicians and casual players alike.
After 13 years in the area Guitar Tex has earned the reputation as the go to place for quality instruments & the only place in the area where you will find knowledgeable help on details like wood selection, scale length, nut width, as well as knowledge of folk instruments.
We're celebrating 13 years in San Antonio & South Texas. Come by & see why we're still around.
Almost everyday we meet someone new or see a new & unusual intrument the likes of which we've never seen before. And even among jaded guitar nerds who've seen it all, we can usually show you something cool & exciting.
At first glance we're just a nice little guitar shop with some good guitars. Keep looking & you'll find that we are also members of the community. We often know our clientele by name & what they like & don't like in guitars, allowing us to truly be of assistance in locating just the right guitar for the right person. Come in & introduce yourself & let us get to know each other.
When I was a lttle boy my father owned a lumber business in San Antonio whose slogan was "We don't want all the business. Just yours!". Not the most original quote ever & surely borrowed from someone else. My father died when I was less than 4 years old but I remember him & the lumber yard where I spent my toddler years in what is now Balcones Heights. And I also remember the giveaway pencils & yardsticks that had that slogan on them. Since he died far too young & I'm left with faint recollections of him, I've decided to retake that slogan because it says things just right:
"WE DON"T WANT ALL THE BUSINESS. JUST YOURS!"