Guitar Tex was opened in 1999 as primarily a repair shop and a place to sell some of Founder Mark Waldrop's used instruments. Although many things have changed, the store's focus has always been to get great playing instruments in the hands of players who will use them and enjoy them for years to come.
We offer some of the finest instruments in the world but our concern has been for the player and his or her needs rather than for collectors.
Simply put, GUITAR TEX has the best selection of quality acoustic instruments in South Texas and a pretty fair selection of quality electrics. No one else comes close to the variety and overall quality that we offer at GUITAR TEX.
MARTIN, LARRIVEE, REVEREND, HUSS & DALTON GUITARS as well as KIWAYA and LOPRINZI UKULELES are all brands carried by GUITAR TEX that can be enjoyed today and for generations to come.
Please don't call us a "boutique." No need to use fancy French names to describe an old fashioned, locally-owned guitar shop.
FROM FOUNDER MARK WALDROP
"As I look around the shop today I'm proud and pleased at the way Guitar Tex has evolved. Back in the winter of 2000 Larrivee Guitars were the first maker that would even consider taking on a modest little fledgling start-up and I've been more than pleased with that decision. The next year we took on Weber mandolins, which was also an excellent decision. Since then our product line has expanded but our focus has never varied. Nearly every day we meet someone new who comments on what a cool shop we have.
That makes me feel really good."
Customer Service
Our team prides ourselves on offering advice based on our YOUR wants and needs.
Integrity
We are musicians at our core and believe in quality of product and services from the start. 
Experience
Each of our team members has unique experience in the guitar building and electronic repairs. 
Guitar Tex is owned by Mark Waldrop who is a San Antonio native but spent a number of years in Greenwich Village beginning in early 1969 where he & his musical partner Bob Rountree quickly found work in the clubs & coffee houses like the Gaslight Cafe, The Village Gate, & The Cafe Au Go Go. On weekends when not gigging Mark would be found working at the Fillmore East. These experiences exposed him to a wide range of music & styles; in the West Village opening for the likes of Doc Watson & Ramblin' Jack Elliot, & at The Fillmore East seeing some of rock music's most famous performers at their peak. Hanging out in Matt Umanov's music shop was a treat & was in some ways a later inspiration for what would eventually be Guitar Tex.  Mark considers himself a "Musicianer" as defined by the street musicians for the the early 20th century, meaning a  musician who plays all the music and styles that work; original songs, tunes from the lesser known writers, blues, jazz, country, bluegrass, swing, & pop.
Mark attended Bryan Galloup's guitar building & repair school in 1993, after moving back to San Antonio, realizing that the area was lacking in experienced guitar technicians. After honing his skills in the basement of 100 year old Alamo Music, and with $1,500.00, his tools & a handful of used instruments he set up his own shop in Olmos Park, with a vision of an intimate shop with a diverse and eclectic selection of merchandise.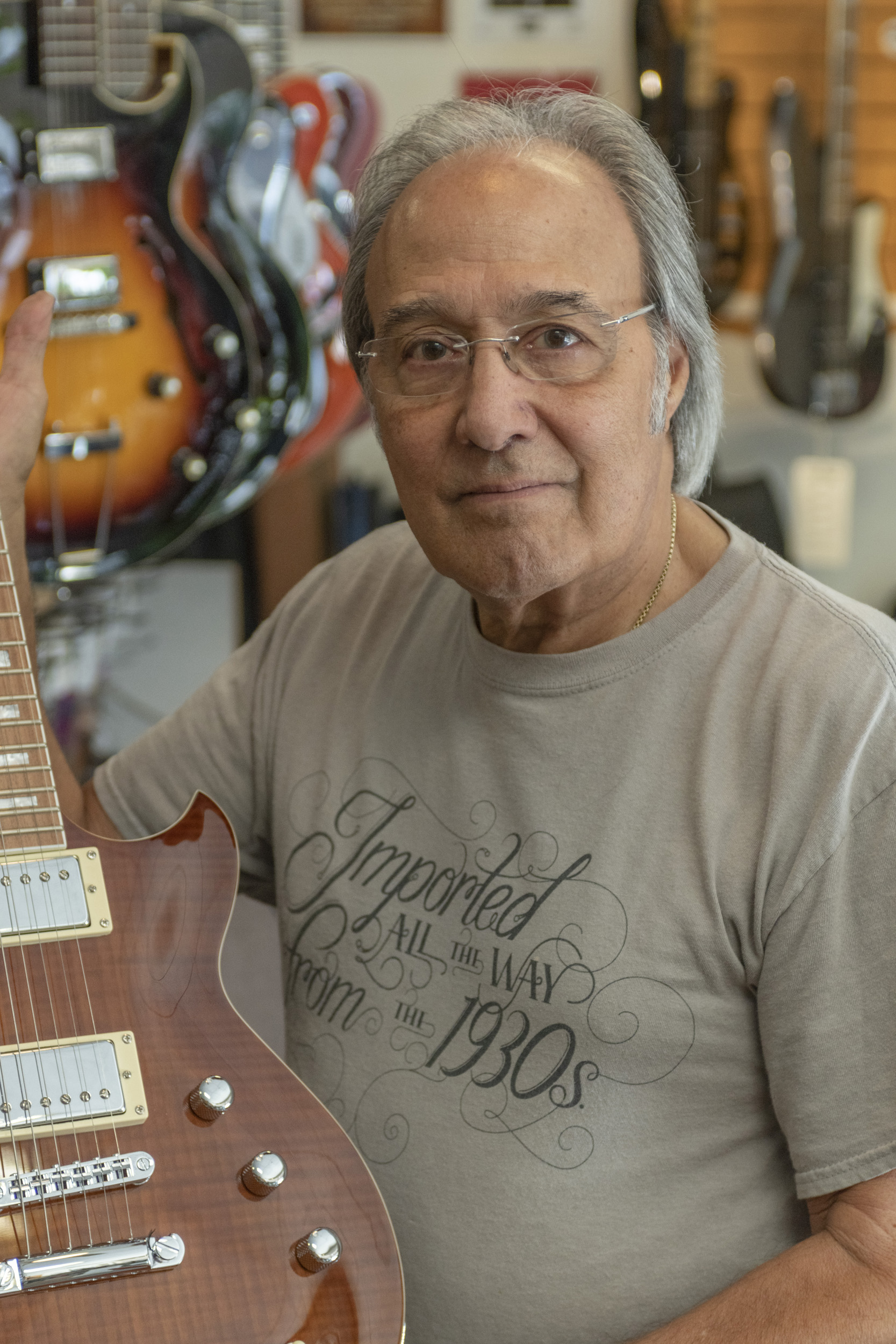 John Michael Ramierez
John Michael Ramirez has many years experience with guitars and stringed instruments and is a member in local band Pete's Best.
Logan Mask
Logan Mask is a regular contractor at Guitar Tex. He attended Galloup's guitar school and has a wealth of experience.
"J.B." John Bierman
"J.B." Bierman brings a wealth of experience with guitars, electronics, and other musical instruments and likes to build microphones as a hobby.
Discover your next favorite instrument

or just Say Hello!
Call (210) 822-1595 or email info@guitartex.com.
We will be honored to help you find the perfect guitar -- or fix the one you love.
FIND US
Fine acoustic guitars, fretted instruments, and repairs.
Guitar Tex will help you find the perfect guitar, and can repair the guitar you love. We want to get to know you and will spend the time to help you select the instrument that will make you happy.
Guitar Tex
4330 McCullough
San Antonio, TX 78212
(210)822-1595
www.GuitarTex.com
info@guitartex.com
We are easy to reach from both the San Antonio International Airport and from Downtown.
From Downtown
We are at 4330 McCullough, and McCullough goes all the way downtown. In the old days, it was one of the few routes out of down town that didn't cross railroad tracks. (A big deal when you have a wagon – I've heard. Never experienced it.) The maps and driving directions will help alot. Easy to know when you're getting close because we're just past the traffic circle/fountain.
We don't want all the business, we just want yours. 
"When I was a little boy my father owned a lumber business in San Antonio whose slogan was "We don't want all the business. Just yours!"  Not the most original quote ever & surely borrowed from someone else. My father died when I was less than 4 years old but I remember him & the lumber yard where I spent my toddler years in what is now Balcones Heights. And I also remember the giveaway pencils & yardsticks that had that slogan on them. Since he died far too young & I'm left with faint recollections of him, I've decided to retake that slogan because it says things just right." 
-Guitar Tex Founder, Mark Waldrop
–